Serena Williams hinted Meghan Markle may be the mystery friend who recommended to her a chin mask by repeating one familiar phrase.
The tennis champion is the latest Vogue cover model and gave the magazine an interview in which she discussed the beauty treatment, saying a friend had recommended it.
While she did not directly name Meghan she hinted the person may be a particularly sensitive subject, mirroring comments made earlier this year.
Williams told Vogue: "The chin mask I can do when I drive.
"It's a chin and jaw mask, and I'm laughing but I am very serious. It keeps your jaw and chin firm.
"A really good friend of mine told me that but I never said her name, never seen her, never heard her, don't know her."
The jokey denial mirrors comments that Williams, a guest at Meghan's 2018 royal wedding to Prince Harry, made to Naomi Campbell in a YouTube interview in April.
Asked about Harry and Meghan's move to America, Williams answered: "I don't know what you're talking about, don't know nothing about that."
Asked again, she added: "Never seen her, never heard of her, don't know her."
The tennis star's response appears to suggest a sensitivity around bringing up the Duchess of Sussex publicly.
Meghan is currently suing U.K. tabloid the Mail on Sunday for printing a letter she sent her father.
However, five of her close friends have been dragged into the case because the handwritten note was mentioned in anonymous interviews they gave to People magazine.
The newspaper claims the group of young mothers could only have spoken out with Meghan's permission and is using their comments to claim in court that Meghan intended the letter to become public.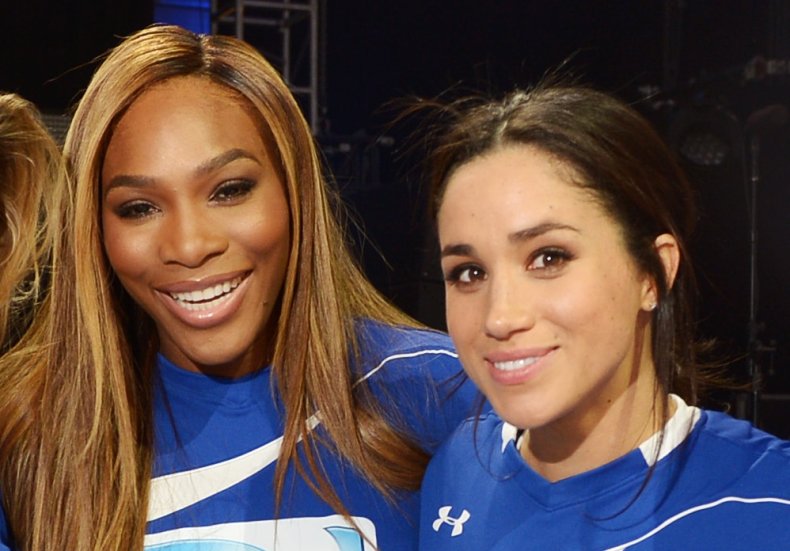 Patrick J. Adams previously deleted an Instagram picture uploaded to mark her 36th birthday.
He told Esquire: "I posted this old photo I had found of Meghan and I on set. I went to bed, and woke up in the morning and realized, 'Oh, yeah. I live in a world where you can't post things about Meghan'."
Former high school friend Nema Vand also gave a scrambled apology after claiming the duchess had "ghosted" an old boyfriend.
Initially, the Shahs of Sunset star told the Reality Life with Kate Casey podcast: "My friend Gabe that I grew up with dated Meghan in high school and he says that after she got on 'Suits,' they were friends for years, and afterwards he said she kind of ghosted him. It really hurt his feelings."
However, after his comments were picked up by news outlets, he wrote on Twitter: "Let me be perfectly clear: Meghan Markle was one of the kindest people I remember from high school.
"Watching certain publications twist a really sweet and innocent story is absurd. I've never known Meghan to be anything but kindhearted to EVERYONE."