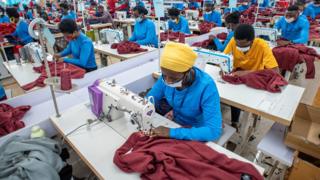 More than 100 sewing machines rattle away at a factory on the outskirts of Kigali, the capital of Rwanda.
A cooperative of 83 of the African nation's tailors established the company – the Kigali Garment Centre – last year.
Located in an industrial area built on one of the rolling green hills surrounding the city, it was set up in line with the Rwandan government's strategy of boosting the country's clothing manufacturing sector.
"We've trained 130 youngsters, of whom 97% are female, since the factory launched," says the firm's director general and co-founder Jerome Mugabo.
Behind him on the main factory floor, employees, who all seem to be in their teens or 20s, are producing chino trousers.
…
Read More
Read more