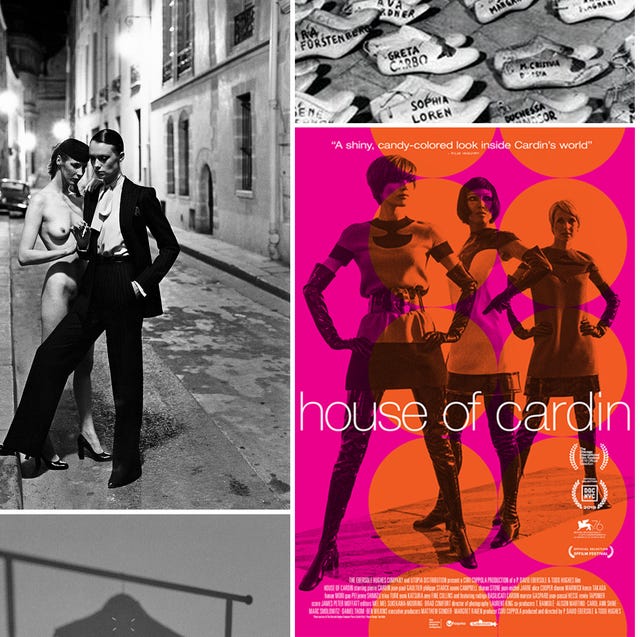 Courtesy
On the surface, fashion is a glamorous world of larger-than-life runway shows, glittering parties packed with celebrities, and colorful characters who speak in hyperbole (think: Diana Vreeland and André Leon Talley). But beneath the spectacle lies a culture of hard work, grit, and fierce ambition. It's a side of fashion that people don't often see—but one that is perhaps more interesting.
Taking viewers behind the curtain are documentarians who dive deep into the lives of fashion professionals. They orchestrate films—conducting interviews and gathering archival footage—that capture the essence of the most indelible names in fashion history and what drives them.
"It is such a great thing to get a glimpse into a world that often has a velvet rope in front of it," P. David Ebersole tells BAZAAR.com. "People can't get back there. Films allow people access to something that they feel so attached to, but really can't get close to."
Ebersole, along with directing partner Todd Hughes, recently released House of Cardin, which celebrates French designer Pierre Cardin, who pioneered Space Age fashion in the '60s and continues to create at age 98. The film is just one of the fashion documentaries that has premiered in 2020. Ahead, we round up the docs letting audiences peer into the fabulous and (at times) fraught world of style, all of which we'll be adding to our queue this year.
---
Advertisement – Continue Reading Below
1
House of Cardin
Directors: P. David Ebersole and Todd Hughes
Release Date: September 15
P. David Ebersole and Todd Hughes were fans of Pierre Cardin, collecting pieces of his life throughout the years. But they didn't think of producing a film about the Space Age pioneer until a chance meeting.
"We were in Paris with our last documentary and went into his flagship store, because we were told that he still works every day," Ebersole tells BAZAAR.com. All of our friends know that we are obsessed with his design, and we just were trying to get a Facebook picture. And before we knew it, we were sitting down and talking with him."
Indeed, Ebersole and Hughes aren't the only ones who have an abiding respect for Cardin and the way he revolutionized the fashion and interior industries in the '60s and beyond with his futuristic designs. Notable names like Naomi Campbell, Sharon Stone, Jean-Paul Gaultier, Dionne Warwick, and Philippe Starck share praise Cardin's enduring talent.
Watch Now
2
Martin Margiela: In His Own Words
Director: Reiner Holzemer
Release Date: August 14
The phrase "the man, the myth, the legend" concisely describes Martin Margiela. In an industry with big egos, the Maison Margiela founder has shied away from the spotlight, always letting his designs take center stage. To wit: He is often referred to as the "Banksy of fashion."
Now, years after he decamped from his eponymous label, the Belgian deesigner is finally speaking out—literally. For Martin Margiela: In His Own Words, director Reiner Holzemer not only manages to get him to partially appear in the documentary (the film leaves out his face), but to narrate it too. Throughout the feature, Margiela describes his methodology and frustration with the over-commercialization of fashion.
Watch Now
3
Salvatore: Shoemaker of Dreams
Director: Luca Guadagnino
Release Date: TBD
Salvatore: Shoemaker of Dreams, which premiered at the 77th Venice Film Festival earlier this month, is a documentary that traces the origin story of Salvatore Ferragamo, from the footwear designer's birth in rural Italy to outfitting Hollywood's greatest stars such as Joan Crawford and Judy Garland. The film is directed by Luca Guadagnino, who was deeply inspired by the autobiography of the same name, and worked with Ferragamo's descendants to bring the story to the screen.
"We were overjoyed to learn that the film about my father's life would be presented at the Venice Film Festival," said Ferruccio Ferragamo, the designer's son and president of the brand in a statement. "It is an honor for me and my entire family that a director of Luca Guadagnino's calibre would take an interest in our family history, adapting it for the big screen."
Discover Now
4
Helmut Newton: The Bad and the Beautiful
Director: Gero von Boehm
Release Date: July 9
From Grace Jones and Claudia Schiffer to Charlotte Rampling and Catherine Deneuve, generations of the most stylish women fell in love with Helmut Newton and the way the famed photographer captured their strength and sensuality. All were on hand to recount their experiences working with the master lensman in the documentary Helmut Newton: The Bad and the Beautiful.
"Women were central to Helmut Newton's life as a photographer," director Gero von Boehm tells BAZAAR.com. "He knew women like no other, so I considered that the best way to tell his personal story. I didn't want the usual male anecdotes. Men were just accessories to Helmut."

Watch Now
This content is created and maintained by a third party, and imported onto this page to help users provide their email addresses. You may be able to find more information about this and similar content at piano.io
Advertisement – Continue Reading Below